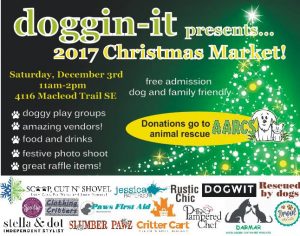 Doggin-it is having it's first Holiday Market! Bring your dogs, there will be small and large doggy play groups. Bring your toonies, there will great raffle prizes. Bring your wallets for some super Christmas shopping from local dog products and home and fashion items! Bring your kids, this is a family friendly event.
When : Saturday, December 3 from 11-2pm
Where : 4116 Macleod Trail SE, Calgary, Alberta T2G 2R7
Doggin-It Daycare & Grooming Calgary's Premier Doggy Care & Grooming Facility
Veterinarian Owned & Operated
---

A Christmas Market GONE TO THE DOGS!
*****The first 75 people will receive grab bags filled with coupons and goodies from the vendors*****
Sit Happens! would like to invite all the dog loving public out to enjoy a wonderful day at a market centered around our canine companions.
When : Sunday, December 4th from 10am-4pm
Where : #4, 2180 Pegasus Way NE, Calgary, Alberta T2E 8M5
Specializing in the family dog, Sit Happens! is committed to helping you have the well mannered canine companion you have always wanted.
Force free, positive training, with positive results!